We have offices located in San Jose, on Clarmar Way (see directions below), San Mateo, on Bovet Road, and a third office in Santa Rosa.
SPECIALIZING IN ESTATE PLANNING
• AARP Legal Services Network Participation
• Free Consultations - Call TODAY!
• Free Educational Seminars




San Jose Office:

2061 Clarmar Way
Suite "B"
San Jose, CA 95128

408-286-1322 (Tel)


San Mateo Office:

177 Bovet Road
Suite 600
San Mateo, CA 94402

650-348-9005 (Tel)


Santa Rosa Office:

131-A Stony Circle,
Suite 500
Santa Rosa, CA 95401

707-577-0805 (Tel)
707-577-7466 (Fax)


LIVING TRUST ADVISORS


San Jose

Law Offices of Donald Ferguson
2061 Clarmar Way, Suite B
San Jose, CA 95128

408-286-1322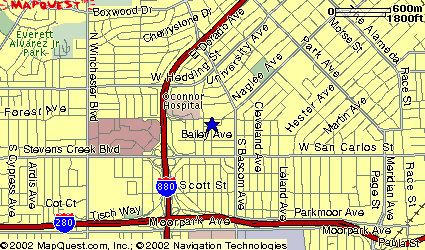 MAPQUEST. for more detailed directions.
Parking: There is ample parking in the lots behind the office and along Clarmar Way.

From 17 WEST
Take Highway 17 North toward San Jose.
Take STEVENS CREEK BLVD exit to the RIGHT.
Follow signs for SAN CARLOS AVE.(STEVENS CREEK turns into SAN CARLOS AVE.)
At the first traffic signal, turn LEFT onto BELLEROSE DR and go 2 blocks.
Turn RIGHT onto CLARMAR WAY.

TOP
From 280 NORTH
Take the WINCHESTER exit. Go five blocks.
Turn RIGHT onto STEVENS CREEK BLVD. Go eight blocks.
Turn LEFT onto BELLEROSE DR (at the traffic signal) and go 2 blocks.
Turn RIGHT onto CLARMAR WAY.

TOP

From 880 EAST
Take the BASCOM AVE. exit.
Turn LEFT on BASCOM AVE. (under freeway).
Turn RIGHT onto NAGLEE (at the third light) and immediately
Turn LEFT onto CLARMAR WAY.

TOP
---
San Mateo Office

Law Offices of Donald Ferguson
177 Bovet Road
Suite 600
San Mateo, CA 94402

650-348-9005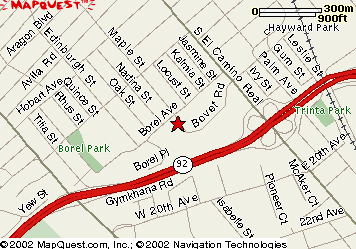 MAPQUEST. for more detailed directions.

TOP
---
Santa Rosa Office

Law Offices of Donald Ferguson
131-A Stony Circle, Suite 500
Santa Rosa, CA 95401

(707) 577-0805 (Tel)
(707) 577-7466 (Fax)